68.5-mile packraft trip down the Tokositna, Chulitna and Susistna Rivers, from the Peters Hills to Talkeetna
Some weekends are just weekends, and others are a week of adventure ratcheted down to a couple days. In July 2019, Brett Woelber, Tim Treuer, Brett Frazer, Michael Dickerson, Chris Hinson and I set out on a backpack and packrafting trip through the southern foothills and rivers of the Alaska Range. After two full days of open tundra ridges, bushwhacking, riffly rivers, sun, bear-inhabited canyons, treacherous whirlpools and sprawling mountainscapes we pulled into Talkeetna feeling like grizzled old outdoorsmen, even though we'd barely been gone long enough to sprout stubble.
Day 0
Tim, Brett F. and I drove to Talkeetna on Friday afternoon and planted ourselves at the Talkeetna Brewpub. Chris and Brett W. joined us shortly thereafter. After finishing our sweet potato fries and beers we dropped Chris' car on the far side of the public park, crammed into Tim's SUV and drove the to the Mt. McKinley Wilderness Lodge, where we found Michael still working his summer job playing piano for the guests. After some quick rearranging and a last-minute gear pitstop we found ourselves bouncing down the Petersville Road. The road was built in the 1920s to access mining claims, but it has been enthusiastically co-opted by hunters, ATV riders, snowmachiners, and at least a few eager packrafters. The road had been graded recently and we made great time to a pullout across from our trailhead, where we parked and camped for the night.
Day 1
The Ridge
After a pathetically slow morning we packed up and hit the ATV trail at 11am.
The well-used trail zig-zagged through brush for about two miles before spitting us out into the almost-open tundra.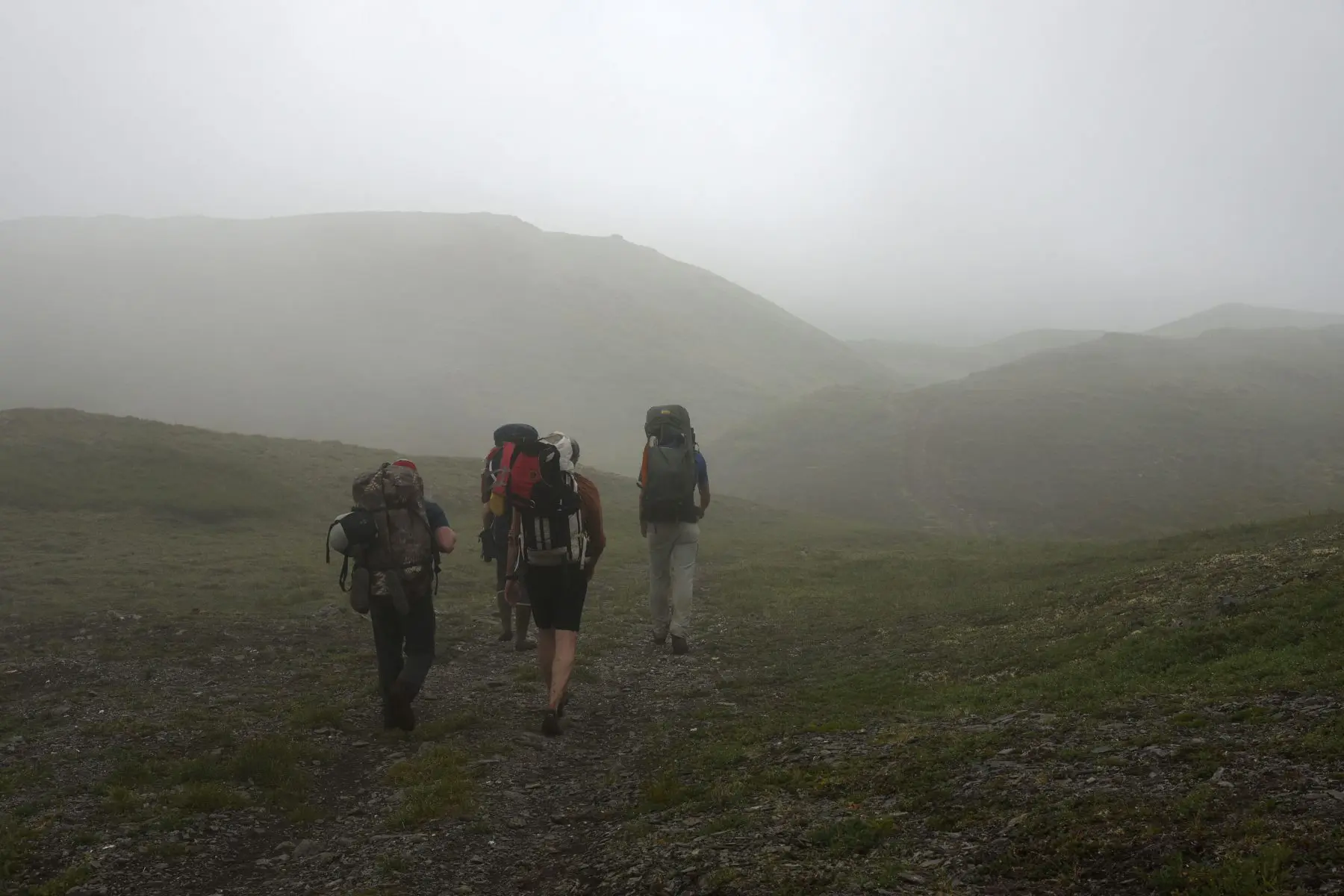 We spotted occasional old ATV tracks on the ridge, but from here on our we more or less made our own way.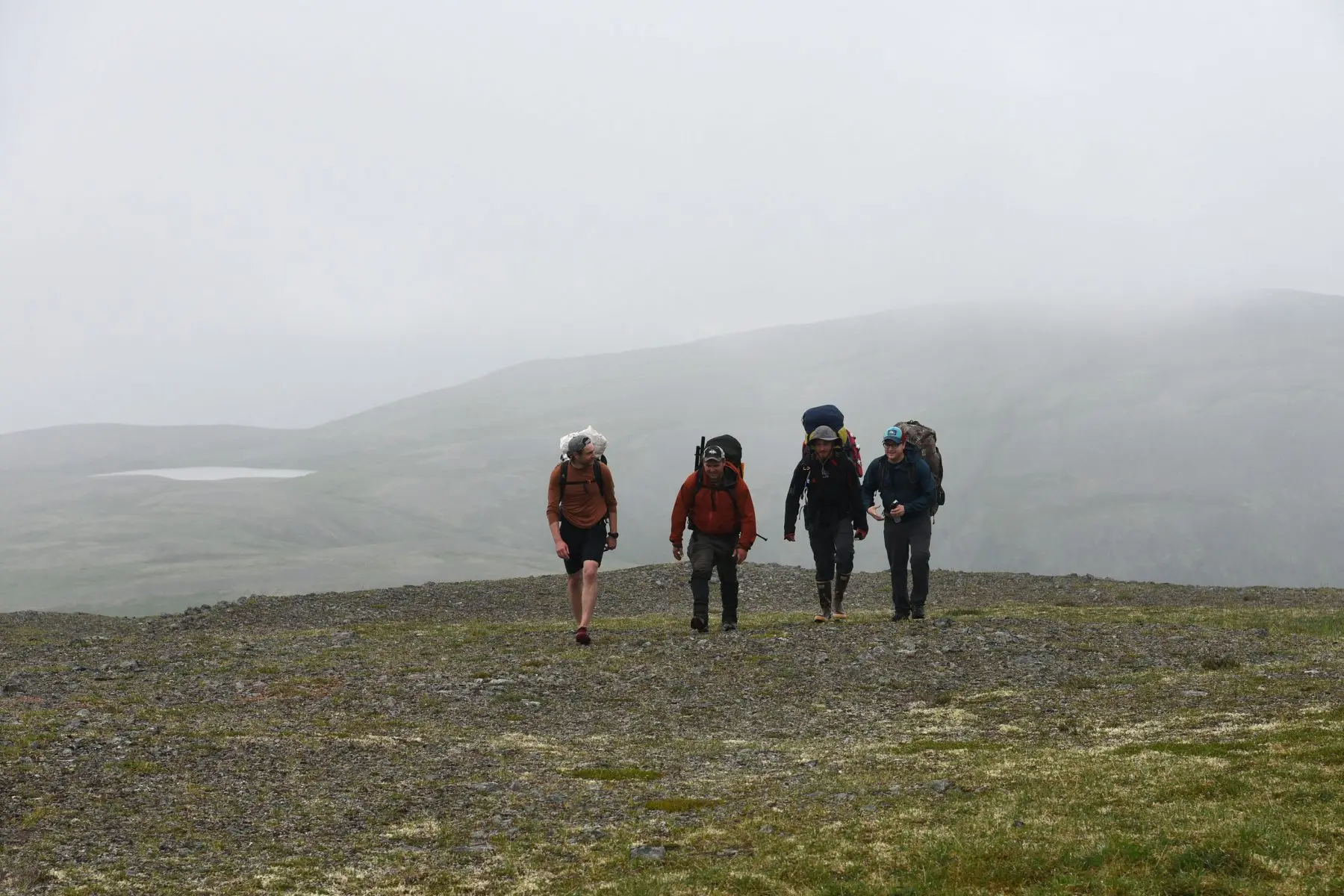 We climbed steadily upward, weaving around lakes and 'schwacking our way across a few alder-filled gullies to the crest of the ridge.
We had hoped for majestic views of the Alaska Range, dominated by 20,308-foot Denali. But the clouds had other ideas and we could only make out a few nearby mountains from the wind-blown, rocky 3,929-foot high point on the ridge. Still, we were grateful for the silvery overcast weather, which had cooled off considerably after early July's historic and almost-unbearable heat wave. And the open tundra walking on the ridge was easy and relaxing.
After about ten and a half miles of hiking we reached the edge of the ridge. We could see the Tokositna winding down the valley below us, and just make out the rocky jumbles of the Tokositna and Ruth Glacier moraines.
Schwackrafting!
Between us and the river lay about two miles of brush. Brett W. had warned us about this part of the trip for weeks. We probably spent more time than necessary planning our attack, mentally linking up fern-filled meadows and steeling ourselves like a kid waiting for the nerve to jump into a cold lake. Eventually we hoisted our packs and dove in.
The first mile or more was surprisingly un-bad, and Tim proved to have a knack for spotting game trails.
Eventually the alder patches pinched together and our pace slowed to less than a mile per hour. Still, the foliage was dominated by alder, ferns, and grasses, with only occasional patches of thorny devil's club. Not exactly fun, but far from terrible by Alaska standards.
We bushwhacked straight across two lush ravines and down through steep glades to the edge of Home Lake, where we stomped out just enough space to inflate our boats and change into paddling gear.
Home Lake and Beaver Homes
After two hours of bushwhacking, paddling across the still surface of Home Lake felt refreshingly graceful. A large white swan raised its head to watch us, fish flitted underwater, and the mountain vistas opened up again.
At the far eastern tip of the lake we found the outlet: a small, gently-moving passageway through a reedy bog.
We followed the outlet for about half a mile until the water flattened out and we ran into a beaver complex.
We hauled our boats over the first dam, paddled around the ruins of a second, and finally reached a side channel of the Tokositna. It was cold, speedy, and inviting. One by one we nosed into the current and let it whip our boats downstream.
It was still warm and light, and we were all relieved to make it to the river without another portage. But it was already after 11pm, and we knew that if we continued into the night we'd only cannibalize tomorrow's time. There were promising campsites at nearly every turn in the river, and at midnight we hauled out. We set up our tents on a corridor of yellow moss, watched a lightening storm wrap itself around the Tokosha Mountains as we cooked dinner, and sipped whiskey till almost 2am. Shortly after we crawled into bed our tents were rocked by a momentary downpour, and then the Denali backcountry went back to its wild semi-silence.
Day Two
We woke up at 8am to another day of warm temps and abalone-shell overcast.
We started the day with hot breakfast, French Press coffee and an attempt to make pancakes. Results were mixed.
After breakfast we packed up and continued our languid paddle down the side channel of the Tokositna, letting the current do most of the work for us.
After about three and a half miles, our side channel rejoined the main channel of the Tokositna.
The main channel was about four times as wide as our side channel. The river picked up some speed, but aside from a few riffles around tight corners it was still relatively placid. Some mountaineers have nicknamed the Tokositna Glacier the "Toke-and-Sit-There." This name would apply equally well to the flat but steady conveyor belt that is the middle Tokositna River. The biggest risk on this stretch would probably be zoning out, letting the boat swing backward (as packrafts naturally do), and running into a sweeper.
If any of us had been hoping for a little more excitement on the Tokositna, we soon got it. After about fourteen and a half miles of paddling today, we reached the confluence of the Tokositna and the fast, splashy Ruth River, pouring down from nearby Ruth Glacier.
Almost immediately the river picked up speed, and we paddled through a series of genuinely fun Class II riffles. The obstcales (root masses on shallow gravel bars, holes and mid-river boulders) were easy to spot and avoid, but nonetheless demanded attention.
During one stretch of riffles we noticed a building in the woods. A couple waved to us from the end of a small dock, and we joked about stopping for burgers. I later learned we were passing the Tokosha Mountain Lodge, an Alaska landmark founded in 1968 by homesteader John Neill with the help of legendary bush pilot Don Sheldon. A stop here might have been very memorable, but in the interest of time maybe it was for the best that we continued on.
About a mile and a quarter past the Tokosha Mountain Lodge, the Tokositna bent sharply east and veered toward the Chulitna. I was enjoying the float and seeking out some of the bigger wave trains, when I suddenly found myself on top of a surprisingly big hole. I popped through and Brett W. steered away at the last moment, but Chris ended up right in the thick of it and flipped. He stayed with his boat and swam it to the far side. Brett W. rescued Chris's paddle, walked up a sandbar, and ferried Chris's paddle back to him. Chris handled the swim like a pro and was still in great spirits, but I was glad that we'd all agreed to wear drysuits (or, in Michael's case, a decent wetsuit). Even though the Tokositna isn't very challenging, it's still cold, swift and silty.
Not long after the swim, the valley opened up and we merged with the much larger Chulitna River.
The Chulitna was a little mellower than the lower Tokositna, and once again we mostly let the current do our work for us.
After about seven miles on the wide, braided Chulitna riverbed the valley walls closed in and we reached the mouth of a canyon. Packrafter instinct says to always regard unscouted canyons with extreme mistrust. But we'd read trip reports, performed river slope angle calcuations and studied high-res imagery on Google Earth, and our research suggested that we had little to worry about. As it turned out the Chulitna had firmly established its presence here, and the character of the river barely changed as it entered the canyon. The most significant obstacles here were motorboats ferrying packs of camera-wielding tourists up and down the river.
At the Parks Highway bridge, Michael peeled away for the takeout. We waved and yelled goodbyes, and continued downriver.
Below the bridge we floated past rocky cliffs and watched a mother black bear tend her cubs by the side of the river.
Beyond the canyon the Chulitna opened up again. It was generally easy to follow the main channel (or a main channel), and there were enough small, roller-coastery Class II- wave trains to keep things interesting.
We could have parked a car at the Parks Highway bridge and taken out with Michael, but I was glad we'd added the leg down the Chulitna to Talkeetna. It added about three hours of paddling and a lot of extra scenery with minimal extra effort.
About a mile and a quarter above Talkeetna, we passed the confluence of the Chulitna and Susitna rivers. From here to Talkeetna we were technically floating the Susitna.
While dropping the car in Talkeetna day before last, we'd decided to pull out in a large eddy just past the confluence of the Talkeetna and Susitna rivers. But we hadn't seen the confluence itself. As it turned out, the Talkeetna was channeled by a large stone embankment to keep it from flooding the town. In recent years the main current of the big, braided Chulitna had swung hard against the town and eaten away dozens of feet of waterfront. The two powerful currents collided right at the edge of the Talkeetna River's embankment. The bright blue water of the Talkeetna and the flat gray water of the Chulitna mounded up and swirled together in a set of big whirlpools that looked like a row of giant, spooky lollipops. For a split second, I felt the whirlpool yanking at the big stern of my boat and thought I might go for a swim, but just as quickly I popped out and swung into the eddy. Tim was right behind me, and said that his boat had been nearly bent in half. But we all made it, and soon found ourselves deflating boats and packing up on the shore.
A couple local young women ran down to us, claimed that they'd been sent there by the police to cite us for trespassing, and then–for reasons unknown–claimed that we were "cop people" and ran off in dismay. They may have been intoxicated. We were excited to have reached Talkeetna.
After blowing down and packing up we headed straight for Mountain High. That's the pizzeria, not the dispensary (you're thinking of The High Expedition, down the street).
We ordered almost as many large pizzas as we had people, and sat in very contented silence listening to live music, which was excellent and nearly as good as the sound of the river.
Debrief
The Tokositna River packraft route is accessible, scenic (even when it's overcast) and potentially ends at one of the coolest small towns in Alaska. Some groups might want to complete the trip in three or four days instead of two, but some of us have real jobs and you gotta do what you can with what you have. The fact that you can do trips like this in a single long weekend is why I moved back to Alaska four and half years ago, and have never regretted it for a second. I was very happy with how things went, and would recommend this route to well-prepared intermediate packrafters looking for a solid weekend objective.