Salomon Quest 4D GTX
Purchased summer 2013, reviewed March 2016
If you could breed a hundred generations of trail running shoes for burliness and grit, the Salomon Quest 4D GTX would be the result. Its lineage reaches back into Salomon's extensive line of trail runners with its thong-lacing structure and surprisingly light weight, yet the boot's stiff lugged soles and burly uppers suggest that this boot has been bred for serious wilderness tromping.
The uppers are made out of suede leather and a tough fabric over a waterproof membrane. The sole is a sandwich of rubber, foam, and plastic, with an integrated rubber toe cap. The lacing eyelets appear to be brass, under a layer of paint.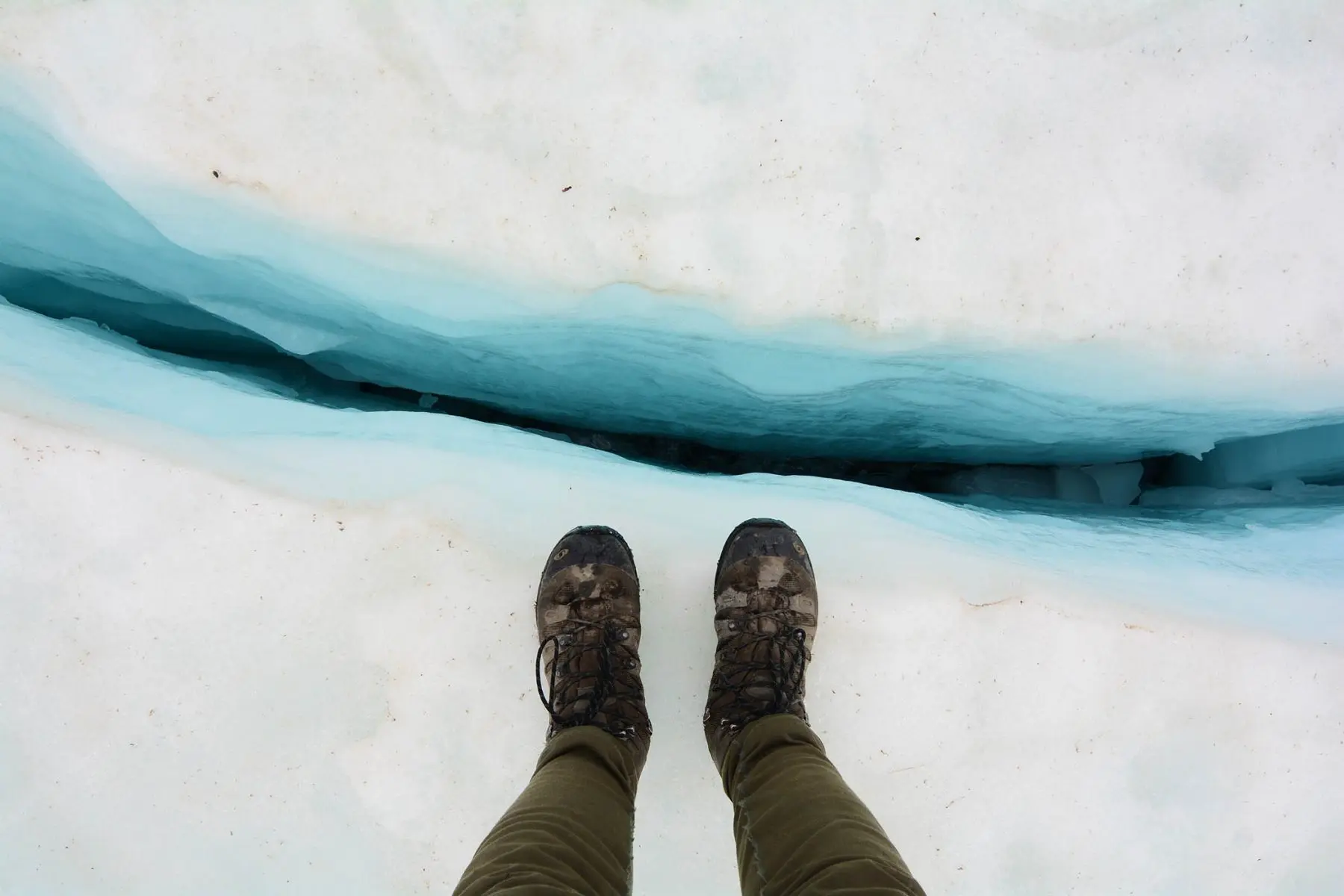 Fit
Salomon's clever lacing system, in which the laces pull against inverted leather V's that run vertically around your foot to the base of the boot, produces a surprisingly comfortable, supportive fit right out of the box. Because of the softer materials and savvy design, the Salomon Quest 4D GTX boots require minimal to no break-in period. In my experience, the boots run true to Brannock size.
On the Trail
I've used the Salomon Quest 4D GTX in a range of environments, from the heat-shimmering domes of Kings Canyon, California, to the wet tundra valleys of the Alaska's Brooks Range. Overall, I'm amazed at the variety of conditions under which they excel. They breathe well enough to use in hot weather, yet are warm enough, with nice wool socks, that I can pull them on for midwinter peak-bagging in Alaska. They're light enough to justify for day hiking, but also stout enough to support week-long wilderness backpacking under reasonably heavy loads.
Stability and support are both on-point. The soles are grippy on a variety of surfaces, including snow and mixed snow/ice. The boot laces quickly and the laces have never broken, though they do have a tendency to untie themselves.
Points of Failure
The Salomon Quest 4D GTX pays for its comfort and light weight with durability. After fewer than 70 wilderness miles, one of the lacing eyelets pulled out of the wetted-out suede leather. Within another hundred-odd miles, another followed. The fabric that flexes at the ball of my foot tore apart on both boots, on both sides, exposing and ultimately causing the failure of the waterproof membrane. The suede leather used in the boots dries out quickly and needs frequent maintenance, especially in wet or dusty conditions, and the soles began to show signs of strain after only a few dozen miles.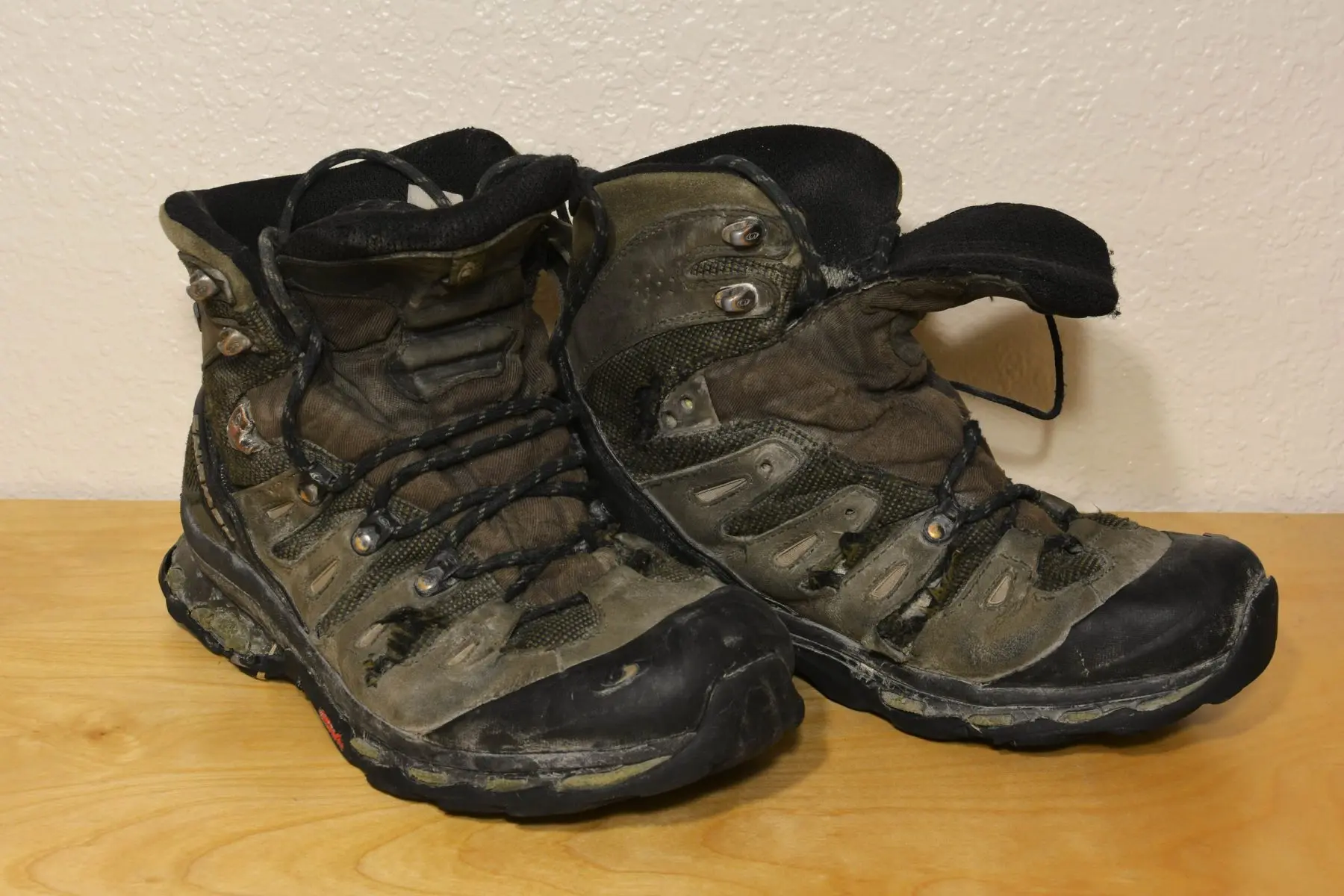 To their credit, the boots have degraded about as gracefully as a hiking boot could. Even with multiple lacing eyelets missing, they feel snug and secure, and the soles, though ragged and heavily worn, haven't pulled apart. Despite the durability issues mentioned above, I took the boots on a winter hunting trip on Adak Island, in the storm-wracked, snowy Aleutians, and they performed admirably even when under extremely heavy loads while postholing through drifts in a mountain pass. These boots can take a lot of mortal wounds before they die.
Salomon Quest 4d GTX boots: The bottom Line
Salomon's Quest 4D GTX boots are very comfortable, stable, and–relative to other boots in their class–light on both your feet and on your wallet. They don't have the classic mountain town street cred (or durability) of, say, a Danner Mountain Light, but they're a compelling footwear option for those who want to move fast under loads through true wilderness.
Last fall, during a rafting trip in the Grand Canyon, I met a veteran backpacker resting in the shade by the side of the river. After chatting for a few minutes about long-distance canyon trekking, I asked her how she liked her Salmon Quest 4D GTX's. "I love them," she said, "I buy a new pair every season."
A better one-sentence review of these boots could not be found.