L.L. Bean Boots
Purchased September 2015, reviewed September 2016, last updated November 2017
L.L. Bean's "Bean Boots" are one of those rare items that make it into the closets of both parents and their college-bound kids. They are a simple, durable boot: waterproof leather uppers, rubber soles, nylon laces, optional insulation. Their iconic styling hasn't changed much since they were introduced around 1911, and the entire production run is still made by hand in Maine, USA. This has made the humble Bean Boot well positioned to capitalize on the trend toward timeless Americana (and especially American-made) clothing and footwear. Since the early 2010's, the surge in popularity of these boots has caused chronic shortages, and for 2016, L.L. Bean has ramped up annual production to an almost bewildering 600,000 pairs.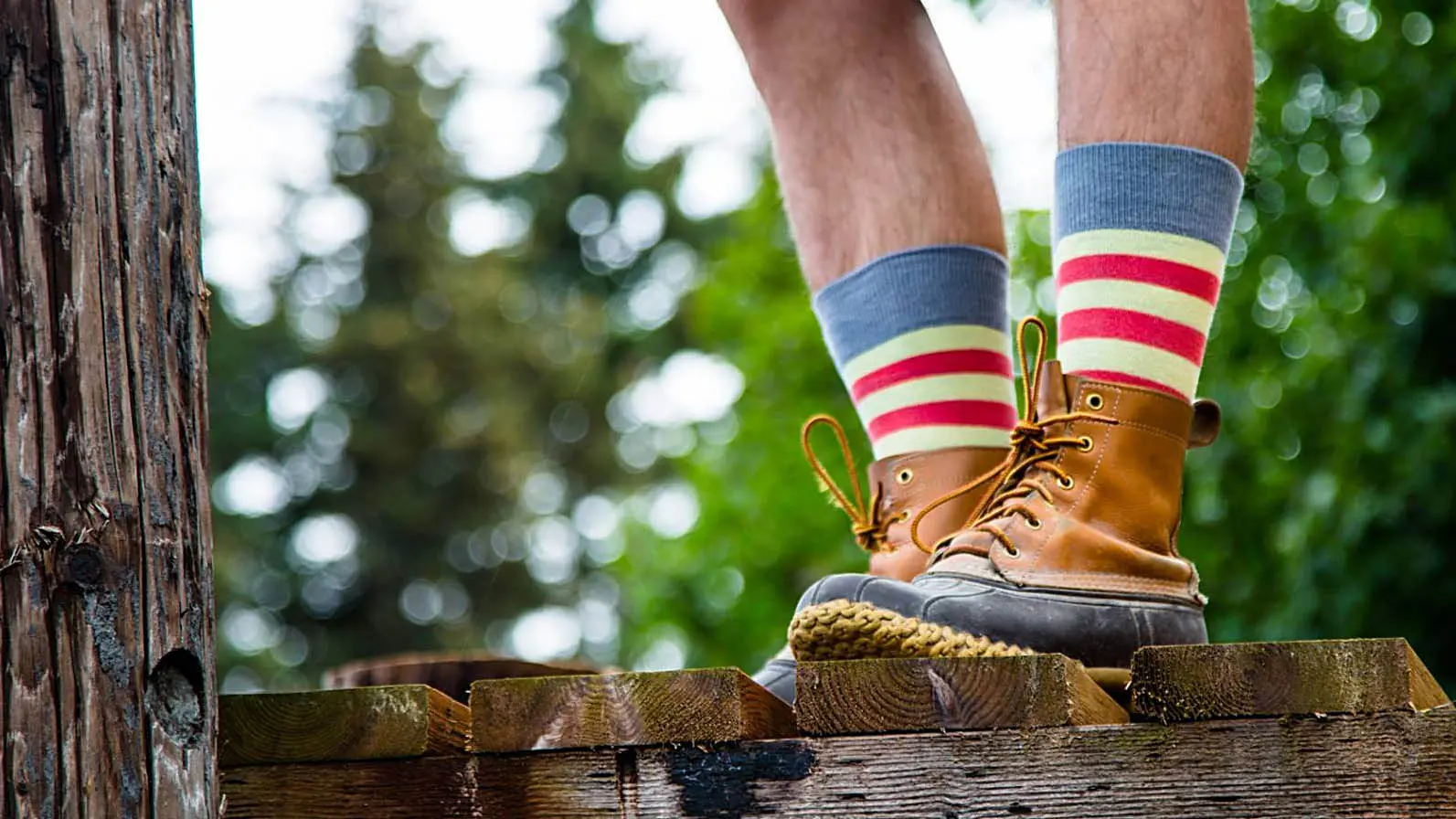 Since I bought a pair last year, my 8″ unlined Bean Boots have probably spent more time on my feet than any other single pair of footwear. Raining? Bean Boots. Snowing? Wool socks and Bean Boots. Not sure what the weather will be like when I get out of work? …probably going with the Bean Boots. They lace up quickly, they're waterproof, and they're just comfortable. My biggest concern with these boots was that the one-piece rubber sole and toebox wouldn't flex well, but it's actually very soft—almost more like a rubber slipper than a heavy boot.
Limitations
Much of the positive buzz for Bean Boots rests on their allegedly practical and utilitarian design. In my experience, however, this is where the Bean Boot story begins to veer into myth. Put simply, these classic duck hunting boots would be a poor choice for backwoods hunting, or any extended off-trail outdoor pursuit. The flexible rubber sole that makes them so comfortable around town provides almost no support for off-trail conditions. Moreover, the one-piece rubber sole/toebox means the laces stop much higher on the boot than on most contemporary boots, which pretty much eliminates the ability to adjust the fit of the boot over your forefoot.
When he first developed the Bean Boot over a hundred years ago, L.L. sent out a flier stating: "You cannot expect success hunting deer or moose if your feet are not properly dressed. The Maine Hunting Shoe is designed by a hunter who has tramped the Maine woods for the last 18 years." Tellingly, this flier was sent not to Maine residents but to a mailing list of out-of-state residents who had purchased hunting licenses. This 100-year-old sidenote somewhat gets to the heart of what the Bean Boot really is.
Durability
After two years of regular use, the uppers have remained waterproof and in good shape, and the rubber is as soft and pliable as always. However, the squishy rubber heels have worn down and the funky chain-link tread is no longer visible. Traction on wet tile or ice was never great to begin with, and is now pretty unnerving. My biggest concern with these boots isn't leaking during a wilderness tromp but that I'll wipe out in the Fred Meyer checkout line.
Bean Boots: The Bottom Line
Bean Boots are a perfect choice for walking around town in mixed fall/winter/spring conditions, or for short jaunts through the woods or down trails. They are simple, waterproof (albeit not very breathable), comfortable, and—in my opinion—have a goofy-cool look. L.L. Bean deserves huge praise for continuing 100% U.S. production and for keeping the boots affordable. The popularity of this boot is well-deserved. Just be aware of their limits: this is a vintage American boot that is at home clomping down a snowy driveway or college campus, not on an actual wilderness hunting trip.