Adak Island Map
Adak Island is a volcanic island located near the center of the long arc of Alaska's Aleutian Islands. Adak's rugged but stunning tundra landscapes, challenging climate, flora and fauna, and fascinating history make it an attractive destination for adventurous backpackers, birders, hunters, and more. The purpose of the Adak Island Map on Winterbear is to take existing map data and improve upon it in order to create the most helpful and accurate backcountry map of the island.
The Adak Island Map can be downloaded for free in full resolution from the link below. It is also available for purchase on either high-quality waterproof paper at 13×19″ or on photo paper in a 17×24.5″ size suitable for framing and/or wall display.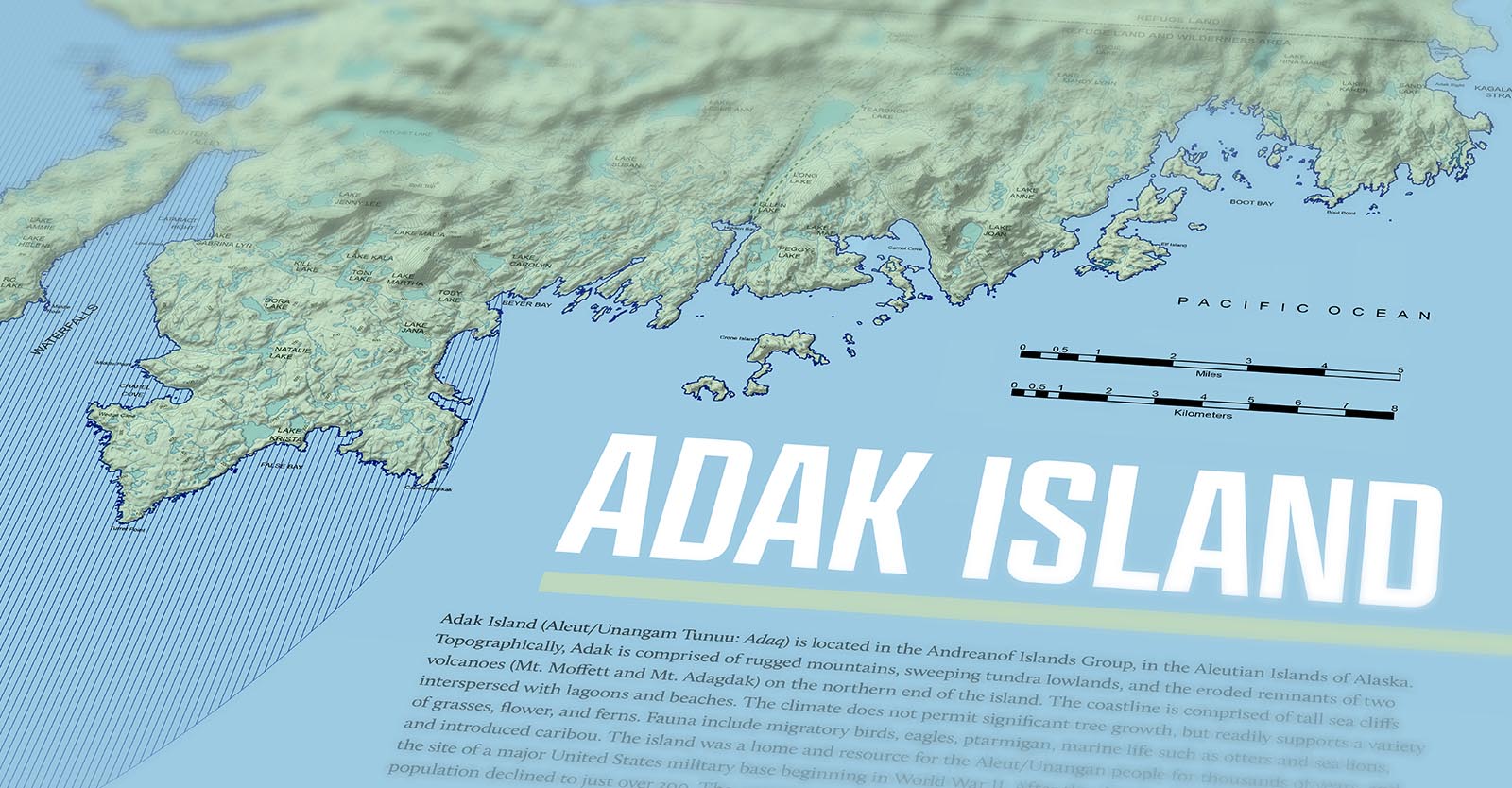 Current state of Adak Maps
Adak Island is extraordinarily remote. Popular mapping apps and map layers in GIS programs often contain outdated data for the Andreanof Islands region, or contain no data at all. The best map is produced by the US Fish and Wildlife Service and is distributed in print at the Adak airport. However, this map is difficult to find in its entirety online, lacks relief shading, and is printed on thin paper that is easily damaged. The Adak Island Map on Winterbear uses the USFWS Map as a jumping-off point and improves it as much as possible.
Improvements and additions to the USFWS Map
The Adak Island Map makes several improvements and additions to the existing USFWS map:
Addition of relief shading to better illustrate topography.
Adjustments to color to improve legibility.
Addition of the Andreanof Islands Group map.
Inclusion of Kagalaska topography and outline.
Kilometer scale in addition to mile scale.
Updated compass declination.
Addition of introductory information about Adak.
Trail map printed on tough, waterproof 10-mil paper.
Future plans for the Adak map
Despite logistical challenges, Adak is an extraordinary place. I hope that the Adak Island Map on Winterbear encourages others to visit Adak. I will continue to update the Adak Island Map with new and better data. In particular, I would like to adjust the USFWS "trail" data (which is misleading at best) after more boots-on-the-ground experience, and include the locations of more landmarks throughout the island.
At some point, it may be possible to replace the USFS base map with lidar-based topographic data and more detailed relief shading. My goal is to make the Adak Island Map on Winterbear the most helpful and accurate topographic map of Adak Island.