Wild Ice Skating
An Online Introduction
Alaska
Anchorage Skating Destinations
The Anchorage area has an active wild ice skating community and a hugely diverse range of skating destinations, from quiet alpine tarns to marshes to glacial lakes studded with icebergs. Below is a list of some of the most popular wild ice accessible from the greater Anchorage area. Take this as a list of starting points for inspiration; an exhaustive list would include every waterbody in the region–and there are a lot!
The NordicSkate-SouthCentral Alaska facebook group is an excellent resource for recent trip and conditions reports.
North of Anchorage
Lynx Lake Loop
The most popular of several good skating options in the Nancy Lake State Recreation Area, the Lynx Lake Loop connects 14 lakes with short overland (or, in one case, skatable) portages. The Nancy Lake area is a ninety-minute drive north of Anchorage, and the lakes often freeze before those closer to the coast. Park at the Tanaina Lake parking lot. Book one of the State cabins on Lynx Lake to turn this classic loop into an excellent "off-season" overnighter.
Rabbit Slough and Palmer Hay Flats
Park at the Rabbit Slough boat launch off the end of Rabbit Slough Road to access the large network of sloughs and lagoons on the Palmer Hay Flats. The main waterway (universally referred to as "Rabbit Slough" even though it is technically Palmer Slough) winds through stands of cottonwoods before opening up into an expansive intertidal wetland. At several places, including at the first of several illegally-built duck shacks, jump out of the slough and cross over to a large set of lagoons with spectacular views of the Talkeetna and Chugach mountains. Large amounts of refrozen overflow occasionally allow adventurous skaters to travel down Rabbit Slough and loop back on Wasilla Creek. Heavy winds in the Mat-Su valley occasionally scour the sloughs and lagoons clear of snow, but can also coat them in glacial silt.
Reflections Lake
Though the lake itself is little different from many others in the Mat-Su Valley, Reflections Lake is notable due to easy access off of the Glenn Highway and amazing mountain views. A set of short passageways through the trees and marshlands at the far end of the lake can provide surprisingly enjoyable "adventure skating," conditions permitting.
Lucille Lake
The Mat Su Valley has no shortage of skateable lakes, many of which have relatively good access due to ever-increasing development in the area. Lucille Lake is larger than nearby Wasilla Lake, and has several good access points. Dubious bonus: you can skate past Sarah Palin's house.
Anchorage Area
Anchorage Coastal Wildlife Refuge
Especially high tides in Turnagain Arm can flood portions of the Anchorage Coastal Wildlife Refuge, leaving a skin of skatable ice over grasses and mud. The uniqueness of this location and extraordinary panoramic views can make skating here worthwhile, but weak, inconsistent ice full of salt and silt can be challenging to skate on and will dull your blades. The best access for skatable ice is from Oceanview Bluff Park, in South Anchorage. Always stay close to shore and be very mindful of the extreme tides.
Campbell Lake
Campbell Lake is the largest lake in Anchorage. Despite its large surface area, this man-made waterbody often freezes before other Anchorage lakes due to its shallow depth. Though public access and use of Campbell Lake have long been contentious, the Municipality and State have jointly affirmed that Campbell Lake is a public resource. Access is via two public easements or, when the inflow has frozen, from a small public parking lot just north of Dimond Blvd.
Eklutna Lake
Eklutna Lake's glacially-fed teal waters sit below some of the tallest summits in Chugach State Park. Due to its size and elevation, Eklutna often freezes "out of sync" with many other Anchorage-area waterways. Access is via the Chugach State Park trailhead at the end of Eklutna Lake Rd.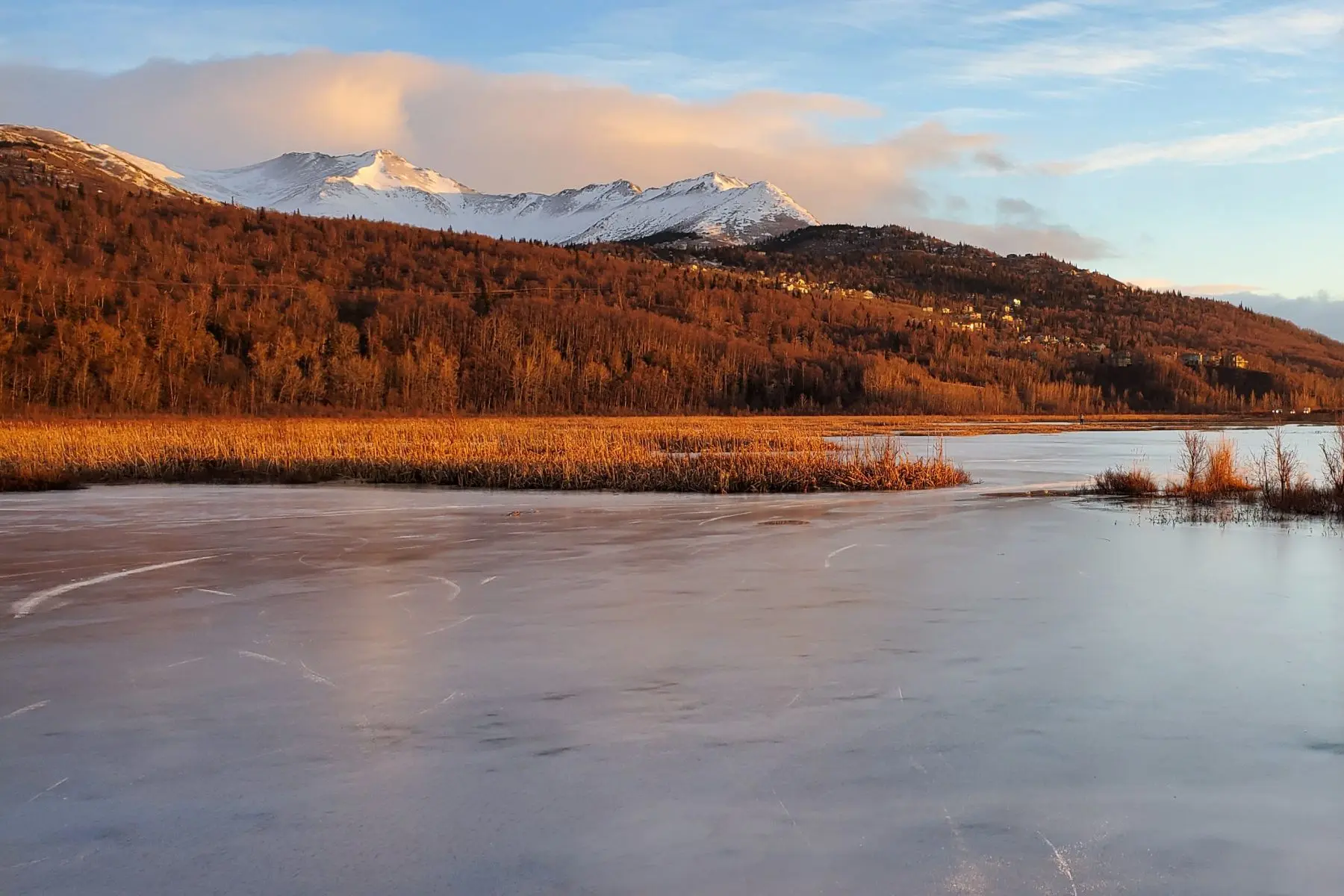 Potter Marsh
Potter Marsh is highly visible and easily accessed from several points along the Seward Highway. Though it is relatively small, Potter Marsh is an excellent spot for quick after-work skates or skill-building in its tight corridors and reedy passageways. Watch for highly variable ice and open water caused by gasses rising from the marsh bottom.
Sand Lake and Jewel Lake
Sand Lake, Jewel Lake, and other small South Anchorage lakes provide excellent, easily-accessed skating opportunities within walking distance of hundreds of Anchorage homes.
South of Anchorage
Portage Lake
Only an hour's drive south of Anchorage, Portage Lake is a 2.75-mile-long lake crowned with the spectacular calving face of Portage Glacier. Park at the Begich-Boggs Visitor Center. Due to its large size, extreme depth and volatile microclimate, Portage Lake is often slow to freeze (in warm winters it may never freeze at all), and lake ice often presents hazards such as pressure ridges, ledes, and inconsistent ice thickness. Stay far from the face of the glacier; Portage Glacier calves year-round and calving events can create waves that break the ice far from the face. Avalanches and rockfall from the steep slopes on either side of the lake present additional considerations.
Twentymile Lagoons
The Twentymile lagoons are a series of wetlands on either side of the outlet of the Twentymile River, accessed from several pullouts on the Seward Highway. Larger open lagoons near the highway allow skaters to weave between stands of skeletal salt-preserved trees killed in the 1964 earthquake. In excellent overflow conditions, it may be possible to skate several miles back into the valley on a series of marshy passageways connecting smaller lagoons. Watch for thin ice in the passageways and gas holes in all locations.
Upper Trail Lake
Upper Trail Lake is a big enough to fill an afternoon, but typically freezes long before Kenai Lake, its larger cousin to the southwest. To access Upper Trail Lake, park at the salmon hatchery lot and cross the bridge over Moose Creek before scrambling down to the lake ice. Nearby lakes worth visiting during a trip to Upper Trail Lake include Tern Lake and Summit Lake.
Last updated June 2022