North Suicide Peak
North Suicide Peak
(5,065 ft.)
Via the Rabbit Lake trailhead, southwest gully route: 5.6 miles each way, 3,340 ft. elevation gain. Difficulty: Class 3(c3+)
▼

KMZ
North Suicide Peak is a rugged 5,065-foot pyramid at the head of Rabbit Valley, near the southwest corner of Chugach State Park. North Suicide and South Suicide Peak are connected by a wind-swept col halfway between their bases at Rabbit Lake and their virtually equal-heighted summits, inviting an allusion to twins conjoined at the hips. But like most twins, these peaks are notable for their differences as much as their similarities. While South Suicide welcomes straightforward hiking ascents, North Suicide demands a little more commitment. The most direct route up the gully on its southwest face is steep and chossy, and the north ridge route requires challenging scrambling and a harrowing drop to Rabbit Lake. Its sprawling northeast face is a (nearly) impassable stack of cliffs. In fact, from a technical perspective the easiest route up North Suicide involves simply summiting South Suicide, dropping down to the col, and then regaining your elevation up to North. But don't let this put you off–North Suicide is an impressive summit accessible to confident scramblers, with many options for approaches, loops, and brag-worthy traverses.
Approaches and Routes
Because of its proximity to Anchorage and local trailheads, there are many potential approaches on North Suicide. The most straightforward of these is via the Rabbit Lake Trail. The McHugh Lake Trail offers a fairly direct route, though it entails significantly more elevation gain. There are also more creative (and difficult) approaches from Indian or even Glen Alps.
To approach via the Rabbit Lake Trail, park at the Rabbit Creek Trailhead at the end of Highland Road. Follow the wide, well-trodden Rabbit Lake Trail about 4.3 miles to Rabbit Lake. Once you reach the Lake, turn south and hop across Rabbit Creek where it flows out of Rabbit Lake. Many people stop here to sunbathe, swim, fish, and camp. But if your goal is the summit of North, your work is still ahead of you. There are many unofficial paths from here on out, or you can strike out across the open tundra.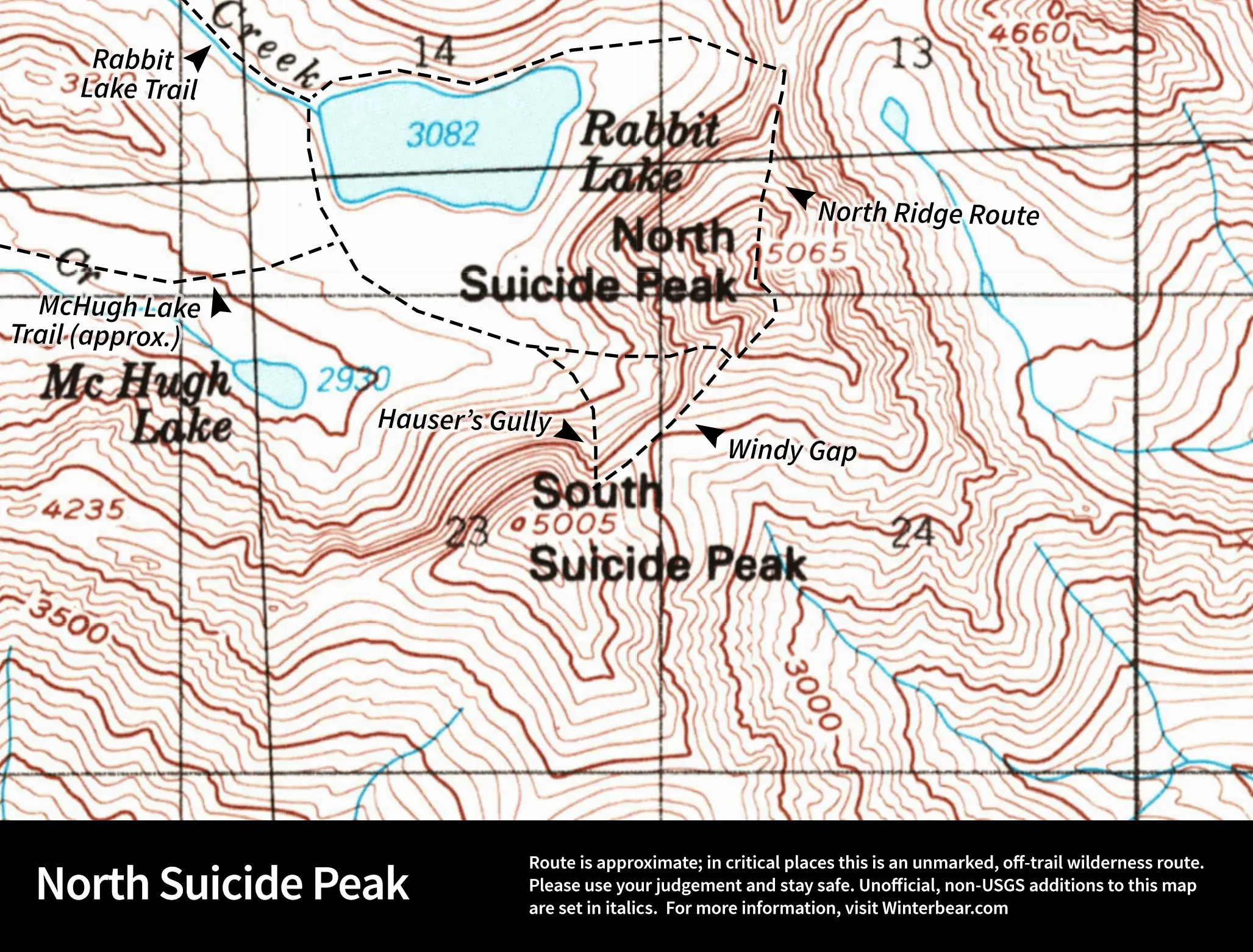 Southwest Gully Route
The southwest gully route strikes a good balance between technical difficulty and directness, and is usually my first choice for tackling the peak.
Head south around the end of Rabbit Lake and swing east over the rippling tundra moraines below North and South Suicide. The southwest gully on North Suicide is located on the southernmost edge of the southeast face, almost adjacent to Windy Gap.
The gully is steep and loose–textbook "two steps forward, one step back" Chugach Crud. If you're traveling in a group, it would be wise to either hike side-by-side or take turns shimmying up the steeper sections to prevent those above from accidentally kicking rocks down on people below. Wearing a helmet in the gully is not a bad idea. In general, better footing can be found on the edges of the gully, where you can occasionally move onto solid rock. Though the going here might be frustrating or slow, this gully isn't really harder than the popular Hauser's Gully route up South Suicide Peak.
It's possible to climb all the way to the top of the gully, but it does become narrower and steeper toward the top. If possible, keep an eye to climbers right/south and traverse out of the gully when the angle of the south wall tapers off, roughly 400-500 feet above Windy Gap.
Once you traverse out of the gully and gain North Suicide's southwest ridge, you can rest your hands for a while. There is a faint unofficial trail winding up the southwest ridge, right on the edge of the peak's pleasant south face. At this point you are only about 600 vertical feet below the summit.
The last hundred feet or so to the summit is rocky and there are a few nasty drops. Take your time to find a safe route, and don't be afraid to turn back here if you aren't comfortable. While many people will probably enjoy this section more than the chossy scramble up the gully, from a technical perspective it is a little more difficult and I've rated it as a Class 3+.
The true summit of North Suicide is a rocky tundra promenade, nearly 2,000 feet above Rabbit Lake below you to the south. To the east you'll be able to look right down the barrel of Rabbit Creek valley, toward Anchorage and the Alaska Range far beyond. To the west you'll have a balcony box view of many of the high peaks in central Chugach State Park and beyond. Weather permitting, of course.